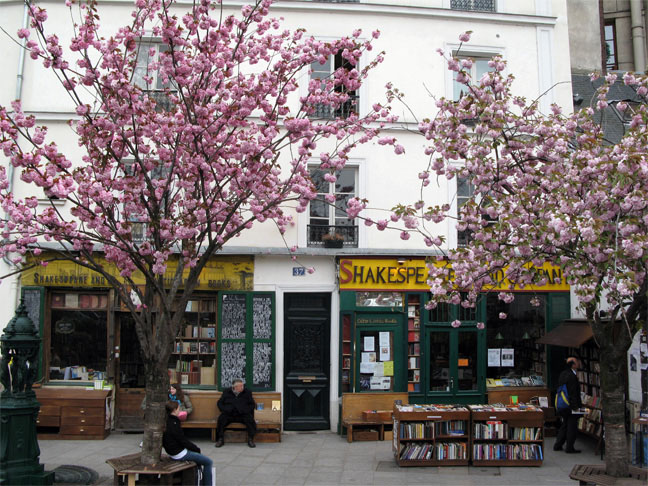 Opened by George Whitman in 1951, Shakespeare and Company bookshop on Paris's Left Bank, opposite Notre Dame, is an internationally renowned literary institution. On the first floor of Shakespeare and Company is the Sylvia Beach Memorial Library, where free readings and writers' workshops take place, where visitors sit to read all day, and where young writers stay at night. Over the years, many of the great writers of the twentieth century – among them Allen Ginsberg, William Burroughs, Anais Nin, Jack Kerouac, Henry Miller, Lawrence Durrell, James Baldwin and Lawrence Ferlinghetti – have written, given readings and even lived within its walls. More recently, there have been events with authors such as Jonathan Safran Foer, Dave Eggers, Lydia Davis, Amadou Lamine Sall, Daniel Mendelsohn, Jeanette Winterson, Michael Moorcock, Guy Goffette, Marilyn Hacker, Dai Sijie, Jacques Réda, and Alasdair Gray. Upon entering, you will find yourself in a place Henry Miller described as "A wonderland of books".
Check out our monthly events and sign up for our monthly newsletter by going to our official bookshop website: www.shakespeareandcompany.com
In 2006, Shakespeare and Company was listed by Lonely Planet as one of the top 10 places to visit in Paris, and in 2009, CNN described it as one of the 10 most beautiful bookstores in the world. It has also been featured in a great variety of works, from Anaïs Nin's Journals (vol.5) or Lawrence Ferlinghetti's poems, to Richard Linklater's Before Sunset (2004) with Julie Delpy and Ethan Hawke or Nora Ephron's Julie & Julia (2009) with Meryl Streep and Amy Adams.
At 96 years old, George has recently retired but still sits as a figurehead above his store. During FestivalandCo 2006, George was made Officier des Arts et Lettres by the French Ministry of Culture for his long-running contribution to literary Parisian history. His daughter, Sylvia Whitman, now runs the institution and founded FestivalandCo in 2003.